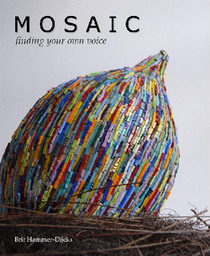 Brit Hammer-Dijcks is a special person and her love of color, her talent for design, and passion for glass and it's reflective qualities comes across in this colorful and informative book. To be in the company of so many amazing mosaic artists is awesome.
…Brit of course, Dugald MacInnes, Elaine M. Goodwin, Sonia King, Mo Ringey, Lin Schorr, Susan Crocenzi, Valerie Fuqua, Linda Mix Yates, Crystal Thomas, Marian Shapiro, Francoise Moulet, Brian Felix, Heather Hancock, Lynne Chin, Ilona Fried, Jacqueline Iskander, Judy Breau, Virgina Gardner, Kate Rattray, Laurie Glynn, Karine Sasine, Rob Tack, Sophie Druin, Annette Cossentine, Yulia Hanansen, Judy Breau, Fran Segal, Barbara Benson Keith, Carole Choucair Queijan, Jennifer Tipton, Xuan My Ho, Giulio Menossi, Faducci (Solomon Basoff & Domenica Mottarella, Renke Leistra, and Luciana Notturni.
Congratulations to all the other artists in the book who I know feel as I do.
Below is a quote from Brit's latest blog titled "Behind the scenes".
"By now you might know I work with symbolism in my own artworks (and that they are puzzles). So it goes without saying that I spoke using symbolism in designing the book. It meant I looked not just for artworks that were beautiful fine art mosaics, but I also looked at the titles of the pieces and the stories behind them. For example, the image opposite the table of contents is
Doreen Adams'
Alice in Wonderland.
Just think about the story and ask yourself how that story relates to what this book is about... And it's not for nothing that my Life is Beautiful is on the cover".
Words of praise from Brit to me.
"Hi there!
First off, thanks so much for working with me on this project! I'm sincerely proud to have your work in the book, and I really mean it. Your work is really exceptional and is a testament that mosaic IS a fine art form, which is what I wanted my book to show to the world."
Brit, you have given me such a wonderful gift. Thank you.